7 Reasons Why I Love the Hell Out of Vikki Locke
Vikki Locke is my good friend and the morning DJ for B985FM. We have lunch regularly. I don't even remember how we started hanging out, maybe it was a hundred years ago when I wrote a cover piece about her for Atlanta magazine. Following are 7 reasons why I love her:
1. If you text her at 10:45 a.m. and jokingly say you've already started drinking for the day, she will immediately drop everything and drive to where she thinks you are to join you. (left)
2. The phrase "ass fuck" is commonly bandied about during our lunch conversations at STEEL in Midtown Atlanta.
3. She never, ever — not even on her own birthday — let's me pay for lunch.
4. Once, when she didn't have any cash to tip the parking valet, she instead gave him a $70 lamp that she'd bought for herself earlier that day.
5. She is so nice, genuine and sincere, that you actually worry about her sometimes.
6. She is the only DJ my 12-year-old can stand (granted, Mae hasn't heard Jimmy Baron or Yvonne Monet, who she would probably love, too.)
7. She has an amazing work ethic, and will not play hooky with me hardly any of the times I beg her to, instead I have to send her joking texts that say I am already drinking at 10 a.m. to make her think I am a friend in need, therefor she will drop everything to join me, making her the Mary Richards to my Rhoda Morgenstern.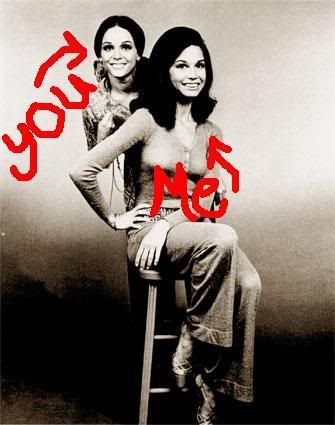 —-
Typos, if any, are intensional.